2014 College Senior Survey (CSS) Research Brief and Infographic Release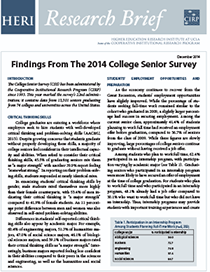 The 2014 College Senior Survey (CSS) research brief and infographic present findings from a nationally administered survey on students' college experiences, future goals, and career plans; this iteration was administered to over 13,000 graduating students at 74 colleges and universities. The 2014 CSS brief focuses on how institutions support students' personal and professional development as well as academic and intellectual growth.
Results highlight slightly improving job prospects for graduating students. Among 2014 college graduates planning to work full time, 41.4% had already secured an employment offer compared to 36.7% of those who graduated with the class of 2009. For students who had participated in an internship program during college, a higher percentage (48.1%) had already secured an employment offer.
Additionally, career services offices connect students with important information, resources and support that may aid their job search. Among graduating seniors who rated their institution's career service office, nearly 60% felt satisfied with its resources and support. However, there were noticeable differences by major. For example, among business and engineering majors, approximately 64% indicated satisfaction with career resources and support compared to approximately half of English and Fine Arts majors.
But graduating seniors do not only seek job search support; a growing percentage also require personal support and counseling. In 2014, approximately one-third of seniors sought personal counseling in the past year, with significantly higher rates for those also reporting feeling depressed. Such responses reveal students' need for personal and emotional support well beyond their introduction to college life.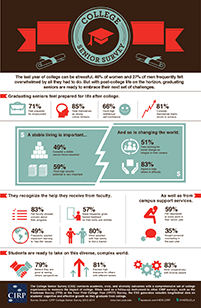 The class of 2014 entered college with noticeably lower self-rated emotional health levels compared to previous entering classes. Among students who completed both the 2010 CIRP Freshman Survey and the 2014 CSS, those who began college reporting lower emotional health indicated lower levels of satisfaction with their overall college experience, felt less valued at the institution, and reported lower levels of belonging as college seniors.
Data not included in the CSS brief but available in the national dataset cover many other aspects of students' college life. For example, 41% of students attended a racial/cultural awareness workshop while 48% played intramural sports since entering college. In addition, the complete dataset reveals differences between female and male students. For instance, 59% of females reported holding leadership positions in college compared to 62% of their male peers. When asked whether they had challenged a professor's ideas in class, 6.5% of female students reported doing so frequently compared to 12.0% of male students; 48.4% of female students reported not doing so at all compared to 33.1% of male students. However, 73.5% of female students and 70.0% of male students reported frequently contributing to class discussions. Institutional data such as these provide campuses with greater insights into students' involvement, satisfaction, and success.
For more results from the 2014 CSS, check out the research brief. (You can also see a full set of the national results here.) And don't forget to register for the 2015 CSS Survey to better understand the college experiences and future plans of graduating seniors on your campus! The CSS survey can be administered on your campus through June 26th, 2015.