Why Are They Leaving? Understanding Retention with CIRP Data
We've been thinking quite a bit about retention at the Higher Education Research Institute this summer. We have the Retention and Persistence Institute just two weeks away (July 29-30), and we unveiled a couple of new tools in beta stage at the Association for Institutional Research (AIR) annual forum in Orlando earlier this summer. Additionally, last week's article in Inside Higher Ed on the decline in first-year retention rates nationwide caught our attention.
The article reviewed a report released from the National Student Clearinghouse that shows first-year persistence rates (reenrollment at any institution for the second fall term) had declined 1.2 percentage points across all sectors since 2009 while the first-year retention rate (reenrollment in the second fall term at the same institution had remained virtually unchanged since 2009.
Notably, the report provides descriptive information about persistence and retention; however, the report and its associated article offer little insight about why students are not reenrolling for their second fall term – either at their native institution or at any higher education institution. Similarly, the report leaves open the question about the kinds of students who are not persisting in higher education or are not being retained at their home campuses.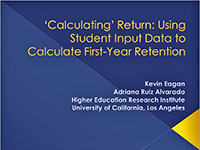 These open questions prompted us at HERI to look at a few of the tools and data provided by the  Cooperative Institutional Research Program to understand better the kinds of students who are leaving higher education and the reasons for their departure.  At AIR this past May, Adriana Ruiz and I presented on a new first-year retention calculator tool that we will be including in the 2014 CIRP Freshman Survey reporting package this year. The calculator follows a similar format and line of research to the graduation rate calculator we introduced to the CIRP TFS reporting package a few years ago.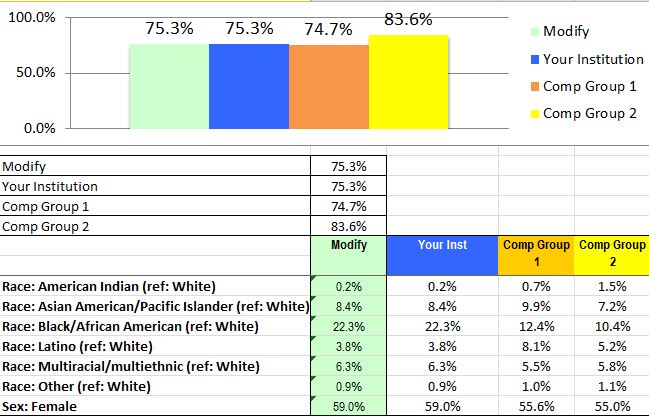 The first-year retention calculator enables campuses to estimate their expected first-year retention rate based on a set of incoming student characteristics, collected from the CIRP Freshman Survey known to predict retention. Campuses can then compare their expected rates to their actual rates to benchmark whether they are performing better (or worse) than anticipated. The most salient predictors of first-year retention in the model we built for this calculator included the extent to which students felt depressed (negative predictor), self-rated emotional health (positive predictor), having an expectation to transfer (negative predictor), and entering college with major concerns about their ability to finance their college education (negative predictor).  Notably, students who express an inclination toward transfer when taking the CIRP TFS during orientation or the first few weeks of their fall term are the ones most likely not to reenroll for the fall of their second year.
Financial aid measures (grants, parental resources positively predicted retention while relying more heavily on loans negatively predicted retention), pre-college preparation measures (higher high school GPA SAT scores and SAT scores were both positive predictors), and having chosen the particular institution based upon its cost of attendance (positive predictor) also significantly and substantively predicted whether students returned to their home institution for the fall of their sophomore year. This model was built based on more than 210,000 respondents to the 2004 CIRP Freshman Survey across 356 colleges and universities. We matched students' TFS data with enrollment and completion data from the National Student Clearinghouse.
The Cooperative Institutional Research Program's (CIRP) Your First College Year survey has, for the last several years, included a retention module with the online version of the instrument. Although the sample size for this module tends to be small, given that most campuses opt for our paper instrument or choose to survey only those students still enrolled at the institution during the time of administration, some of the top reasons for leaving are instructive.
Among the 246 students who completed the retention module in 2011, 40.3% indicated a lack of community as being "very important" in their decision to leave. More than one-third (36.2%) noted that their financial aid package's inadequacy was a "very important" factor in their departure decision, and 41.7% said their inability to afford college was a "very important" reason for leaving. More than 40% (40.2%) said they left in part due to their preferred major not being offered while more than one-third (35.2%) noted academic difficulties related to academic probation, suspension, or expulsion as very important reasons for leaving.
It's clear that the reasons for leaving college are as diverse as the students who leave, but we consistently see academic and financial difficulties as key factors in students' departure decisions. Coupled with the findings from the first-year retention calculator, it's clear that prior preparation and financial aid/college cost will continue to have outsized roles in determining how successful campuses are in retaining students – both into the second year and through to degree completion.