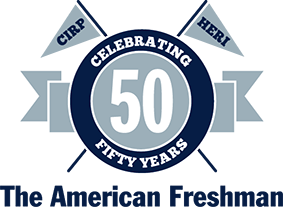 This year - 2015 - marks the 50th administration of the CIRP Freshman Survey. Each year, hundreds of two-year colleges, four-year colleges and universities administer the CIRP Freshman Survey (TFS) to hundreds of thousands of entering students during orientation or registration.
The survey covers a wide range of student characteristics: parental income and education, ethnicity, and other demographic items; financial aid; secondary school achievement and activities; educational and career plans; and values, attitudes, beliefs, and self-concept.
Published annually in "The American Freshman", the results from these surveys continue to provide a comprehensive portrait of the changing character of entering students and American society at large.