The College Senior Survey (CSS) connects academic, civic, and diversity outcomes with a comprehensive set of college experiences to measure the impact of college. Although the CSS can be used as a stand-alone instrument, when used in conjunction with the CIRP Freshman Survey (TFS), the Diverse Learning Environments Survey (DLE), or the Your First College Year Survey (YFCY), the CSS generates valuable longitudinal data on students' cognitive and affective growth during college.
About the College Senior Survey
The College Senior Survey is designed as an exit survey for graduating seniors. The CSS focuses on a broad range of college outcomes and post-college goals and plans including:
academic achievement and engagement
student-faculty interaction
cognitive and affective development
student goals and values
satisfaction with the college experience
degree aspirations and career plans
post-college plans
Schools participating in the CSS receive an institutional profile, which includes your institutional results broken out by sex, full and part-time status, comparisons with other similar institutions, significance testing, effect sizes, CIRP Constructs and Theme reports, and a data file of your student responses.
Schools using the CSS as a post-test to the TFS, YFCY, or DLE will also receive a Longitudinal Profile, which can be used to assess growth and change over time.
Administering the CSS Survey
Administered anytime between November 14, 2014 and June 26, 2015
The 2015 administration of the CSS is available as a paper or as an online survey.
The Paper Survey

The paper survey can be administered in the classroom, a group setting, or as a mail-out survey. The most successful administration of the CSS is in large group settings, such as a graduation rehearsal. You select the delivery date and the number of questionnaires needed.

The Web Survey

The web survey can be administered either with your campus managing the email notification process, or for ease of use, you can elect to have HERI manage the email notifications to students. Our web portal allows you to set email notification and reminder dates, customize "welcome" and "thank you" pages, customize email notifications, and upload your additional questions. Throughout the administration, you can monitor your response rates in real time. Your survey data updates in real time, so you can download your preliminary data file at any point to analyze early responses.
Reporting Samples
View Full Screen Sample Report Page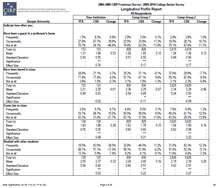 View Sample PowerPoint Slide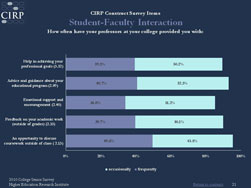 ---
The Survey Instrument
Important Forms and Documentation
Survey Fees
Standard Costs

Participation Fee

$825

Processing Fee

$3.25 per survey processed
Optional Costs

Customized Welcome and Thank You Pages

FREE

Additional questions for web administration - 20 closed-ended and/or 5 open-ended

$350

Additional questions for paper administration - 20 closed-ended

FREE

HERI-managed email distribution to students

$375

School-managed distribution (bulk codes)

FREE
Billing Policy
Upon registration, institutions are sent one bill for the participation fee. After each institution completes their survey administration and returns the data for processing, the per-survey processing fees are calculated and a second bill is sent to each institution for their respective processing charges. Institutions are also billed separately for any Data Service Orders they may place, and these bills are sent out after the completion and fulfillment of each Data Service Order.
Withdrawal Policy
For Web Administrations

You may cancel without penalty up to the time that the unique URL(s) have been sent to your institution, or distributed per your institution's direction. If the URL(s) have already been sent to your institution or distributed via HERI's email distribution service to your intended survey participants, you will be charged a withdrawal fee of $100. In addition, if HERI has provided any customized services at your request (e.g., incorporated on-line additional questions, etc), you will also be responsible for the full cost of these services.

For Paper Administrations

You may cancel without penalty up to the time that the questionnaires have been sent to your institution. If questionnaires have already been sent to your institution, you will be chared the full participation fee unless you return all of the questionnaires intact to our processing center. Once the unused questionnaires have been received and verified at our processing center, the participation fee will be waived and a withdrawal fee of $100 will be accessed.