1994: Notable for Mandela Taking Office, Forrest Gump Quotes, Nancy Kerrigan vs. Tonya Harding, and NAFTA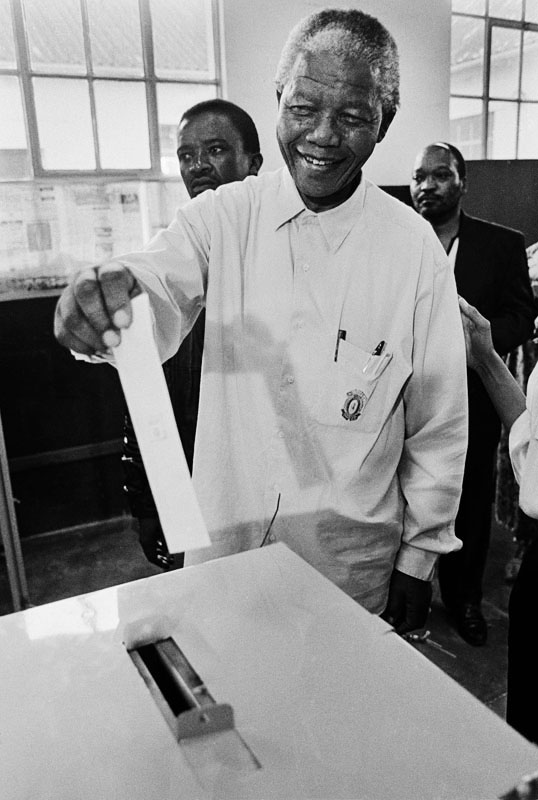 This year screens lit up with The Lion King. Quotes from Forrest Gump were immortalized. Friends met up at Central Perk for the first time. Nancy Kerrigan was struck by the "whack heard around the world." The Winter Olympics were greener than ever. People travelled under the sea between England and France. A trilateral trade agreement was established across North American countries. South Africa held its first fully multiracial presidential election.
Moviegoers were delighted with several blockbusters in theaters this year, including Disney's The Lion King which was the highest-grossing movie of 1994 and the multi-Oscar winning epic, Forrest Gump. Hollywood hits weren't the only thing people watched, popular TV shows such as Friends and ER debuted and 95 million viewers across the country were glued to their televisions watching OJ Simpson trying to outrun police in his white Bronco. Every year the Freshman Survey asks incoming college students how they spend their time. About three out of ten (31.0%) incoming students reported that they had spent six or more hours per week in the last year watching television. Men were much more likely to spend time watching television, 36.5% of men compared to 26.3% of women spent six or more hours a week in front of the tube.
The 1994 Winter Olympic Games were held in Lillehammer, Norway. One of the biggest scandals to ever hit figure skating occurred in the time leading up to the games. . When leaving the ice after a practice session, Nancy Kerrigan was attacked with a baton, injuring her right knee. It was revealed that the attack was organized by the ex-husband of Kerrigan's rival, Tonya Harding. After a quick recovery, Kerrigan skated in the Games and came home with the silver medal, finishing second to gold-medalist Oksana Baiul, and Tonya Harding was banned from professional figure skating. The Winter Games in Norway were also the most environmentally-friendly Olympics. The president of the International Olympic Committee named the 1994 Winter Games the "White-Green Games" in honor of Norway's recycling and energy-saving efforts. Concern for the environment was widespread, especially among the incoming class of college students. The majority of freshmen "agreed strongly" or "agreed somewhat" that the federal government is not doing enough to control environmental pollution (84.0%) and that the federal government should do more to discourage energy consumption (71.9%). Although most students believed that the government should be doing more to protect the environment, only a quarter (24.3%) of incoming students considered becoming involved in programs to clean up the environment as an "essential" or "very important" goal.
In politics and other news, the North American Free Trade Agreement (NAFTA) opened up trade between the U.S., Canada, and Mexico. Winning its first fully multiracial election post-Apartheid, Nelson Mandela became president of South Africa. U.S. President Bill Clinton signed the Federal Assault Weapons Ban. The Chunnel officially opened transporting passengers quickly between England and France. The Church of England ordained its first female priests. According to the Freshman Survey, incoming students valued several related goals. When asked about the importance of certain goals, 35.8% cited helping to promote racial understanding, 31.9% stated keeping up to date with political affairs, only 18.7% believed influencing the political structure, and 40.2% stated influencing social values as "essential" or "very important."
Did you know? 36.5% of incoming freshmen stated that becoming a more cultured person was a "very important" reason to go to college.
64.1% of incoming freshmen rated themselves as in the "highest 10%" or "above average" compared to their peers in their drive to achieve.
38.7% of incoming freshmen believed there was "very good chance" that they would get a job to help pay for college expenses.